The Epic Summer Road Trip 2023 had three destination goals: complete the 48 continental United States with Delaware; see the Embrace statue with my own eyes (and heart); and visit the West Virginia Renaissance Festival. The West Virginia Renaissance Festival is in Greenbrier County, in the southernmost tip of the state. Greenbrier County is a scenic area with a luxurious spa and resort at White Sulphur Spring that has been welcoming visitors since 1778. The town of Lewisburg, between the resort and the renaissance festival, is a welcoming tourist destination.
I arrived on First Friday, and checked into my room at the Washington Street Quarters. Choosing to stay downtown was a great idea, I could walk from one end of town to the other from this location and never had to look for parking. I love not driving when I'm visiting a place, walking lets me see more and fully experience a town. Lewisburg has two bookstores, numerous galleries, some truly up-up-scale clothing shops. Not everything was open, so lots of window-shopping.
Several bookstore displays highlighted local stories of the Mothman and a ghost who testified against her murderer, Zona Heaster Shue, whose story I had read before I arrived. Pro-tip for me to remember for the future–search the library catalog using place names and counties for novels and histories about the places you're going to visit. Reading The Unquiet Grave gave me a good preview of the area and introduced me to local myths.
It was the first weekend of June, the first weekend of Pride Month, and I was a bit surprised by the number of rainbow flags at different establishments. I'm straight myself, but maybe not normal, and find places that welcome different people generally welcome me too.
Saturday morning I headed out to the West Virginia Renaissance Festival for its opening day. My goodness the gentle mountains of this area are incredibly picturesque. I don't take very good photos, it's nearly impossible to capture just how many shades of green exist until you see the bright fields, shady trees and looming mountains with your own eyes. This is an incredibly beautiful site for a renaissance festival.
The mountains are beautiful to look at, but also make it harder to stroll from place-to-place. The locals assured me this was relatively level land, for the area, but gosh the walk from the front gate, where you are serenaded by the Gypsy Guerrilla Band, to the Cloisters, the pub where Celtic Mayhem was playing, is quite an effort. But well worth the effort, the entertainment at the show is wonderful. The West Virginia is unique because it is not run by a major corporation. It's a labor of love, founded by jouster and actor Taso Stavrakis and his partner Dawn Kieninger, and a working farm year-round.
As a relatively new show and a working farm, be aware the seating in several areas is haybales and the privies are the blue portable type. Nothing out the ordinary. But. The Cloisters pub and several other venues are actively being used by chickens and goats at night. It's not a place for dragging fancy court dress along the ground you'll drag along sawdust and…let's just say, wear pants tucked into boots and you'll be alright. "But it's so authentic!" my Mom said when I described it on the phone. I attended my first show in 1980 and worked many of them since then, and never smelled that much authenticity.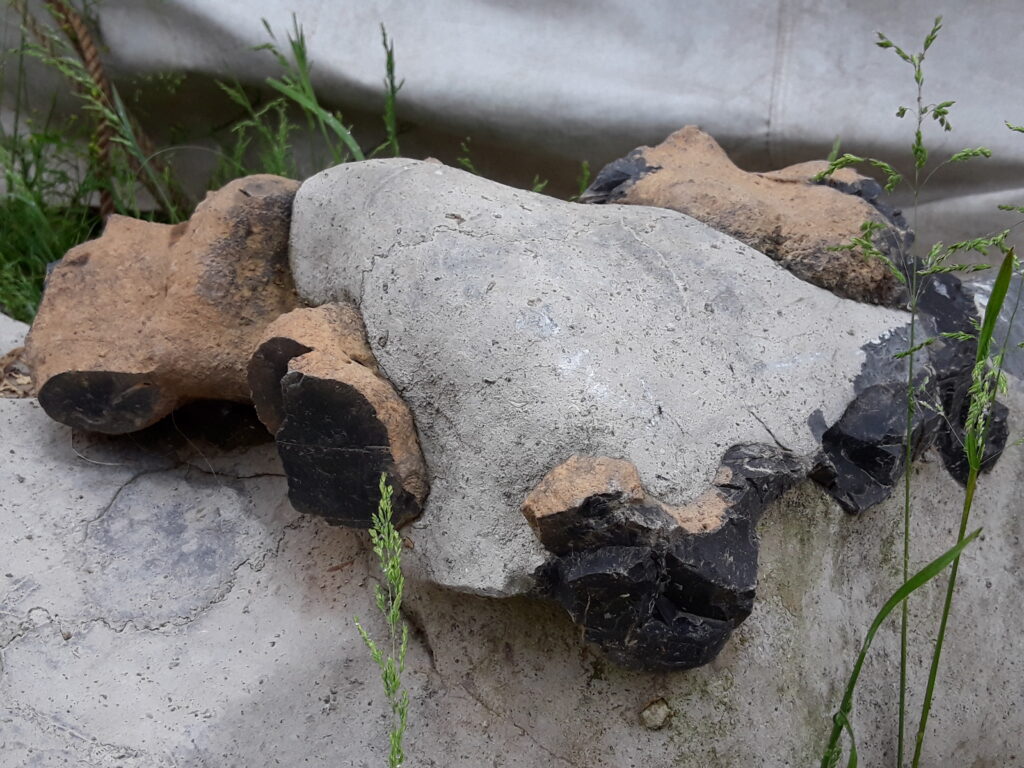 For the geologically inclined, the large limestone rocks with chert intrusions are fascinating. This happens when the soft limestone has holes worn into it, usually from an underground aquifer. Then a secondary event happens when molten quartz pours into the holes and fills them with a hard, dark flinty chert. I love these rocks!
Leaving at the end of the day, a cop tailgated me all the way back to Lewisburg, and I didn't know the speed limit but I slowly cruised with my out-of-state plates without incident.
Back in Lewisburg, I had a great hamburger and listened to music at The Asylum. Traveling by myself I get to watch and listen and observe more than when I have friends or family to engage with. I found West Virginia is a complex place, a strange frog-shaped state. Some say it a middle-fingered salute? Formed by a refusal to join Virginia in succession during the War Between the States. Anti-slavery, pro-worker to its very core. Just to the west of the verdant resorts in Greenbrier is Blair Mountain, where a war fought in 1921 for the right to unionize the mining workforce. The history there is deeply dark and mysterious, and outside my area of expertise. But since my visit I've been reading about different aspects. One of the first things that tipped me off? The live music calendar for the Lewisburg is hosted by the American Federation of Musicians.
I can't wait to return, plans are afoot to take Denis and visit again in 2024. The West Virginia Renaissance Festival is a grand attraction in a lovely space with a welcoming town nearby. Driving was easy, I'm not sure where the nearest airport connections might be–but planning a trip there is strongly recommended for all people who love to visit renaissance festivals.